T Levels launched in September 2020. They are a 2-year programme that follows GCSEs and are equivalent to 3 A levels.
T Levels combine classroom theory, practical learning and substantial industry placements to make sure students have real experience of the workplace. T Level courses have been developed with employers and businesses so the content meets the needs of industry and prepares students for work.

They are designed to provide the knowledge, skills and experience needed to open the door to entry level skilled roles, a higher apprenticeship or further study including at university.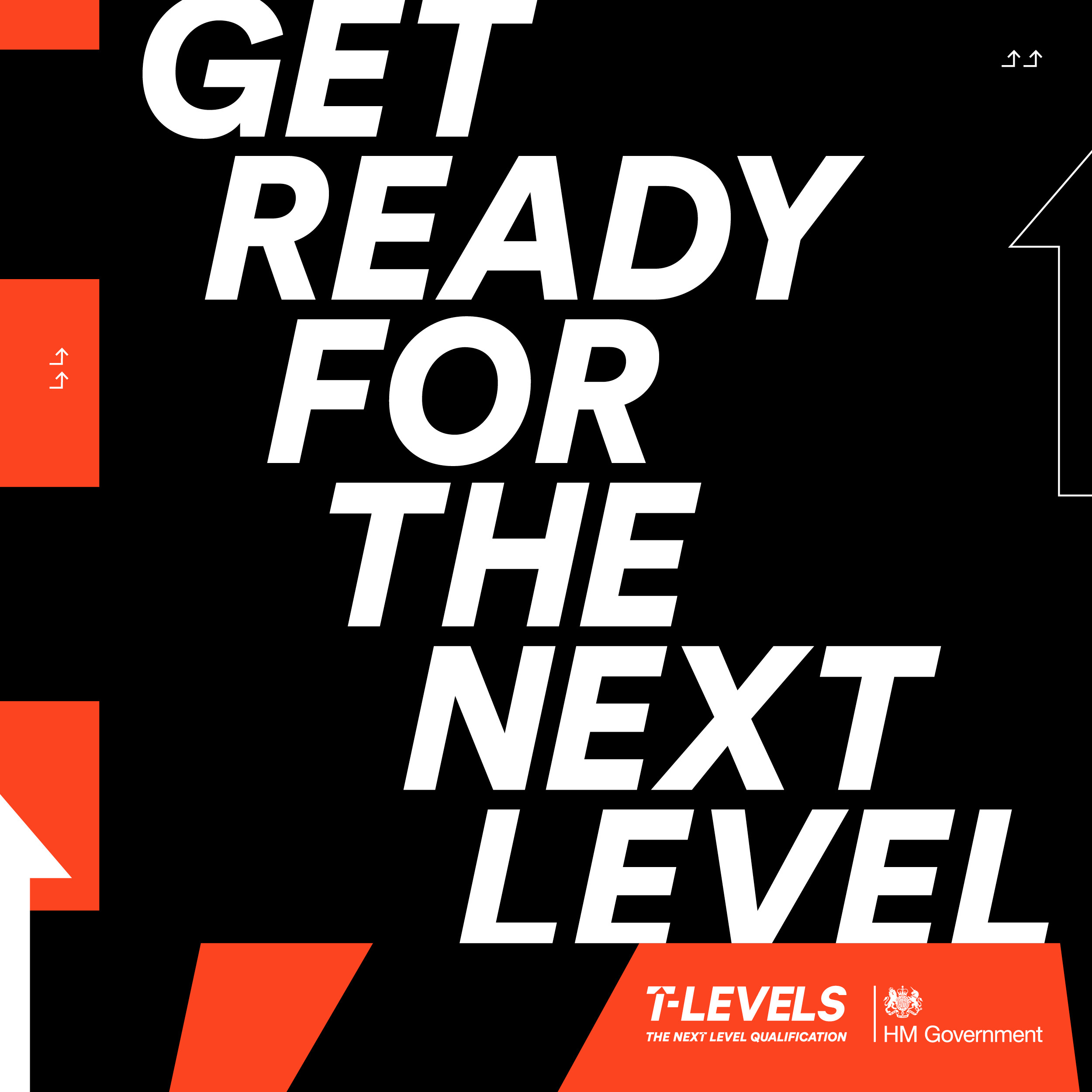 What's do T Levels involve?
With T Levels, you'll spend 80% of your time in the classroom and 20% on a 45-day (at least 315 hours) placement, or possibly longer, with an employer to give you the knowledge and skills

T Level courses will include the following compulsory elements:
- a technical qualification, which will include: core theory, concepts and skills for an industry area, and specialist skills and knowledge for an occupation or career
- an industry placement with an employer
- a minimum standard in maths and English if students have not already achieved them
How are T Levels graded?

Students who complete their T Level will receive an overall grade of pass, merit, distinction or distinction*. They will get a nationally recognised certificate which will show their overall grade and a breakdown of what they have achieved.

The T Level certificate will include:

an overall grade for the T Level, shown as pass, merit, distinction or distinction*
a separate grade for the core component, using A* to E
a separate grade for each occupational specialism, shown as pass, merit or distinction

It will also include confirmation that the student has:

met the minimum requirements for maths and English qualifications
completed the industry placement
met any additional mandatory requirements

A student's overall T Level grade will be worked out from the grades they achieved on the core component and the occupational specialism(s).

Students who do not pass all elements of their T Level will get a T Level statement of achievement which will show the elements they have completed.
I'm an employer and I'd like to find out offering work placements. Who do I contact?

That's great! Employers are essential to the success of T Level programmes and we'd love to speak to you.

You can get in touch with us today:

01235 555 585 | enquiries@abingdon-witney.ac.uk
What can I do after?

T Levels will provide several progression options to students. These include skilled employment, an apprenticeship and higher education.

To help T Level students get into higher education, UCAS tariff points will be allocated to T Levels.

UCAS points will only be allocated to the overall T Level grade. Students must achieve at least an overall pass grade to receive UCAS points.

| UCAS tariff points | | T Level overall grade | A level |
| --- | --- | --- |
| 168 | Distinction* (A* on the core and distinction in the occupational specialism) | AAA* |
| 144 | Distinction | AAA |
| 120 | Merit | BBB |
| 96 | Pass (C or above on the core) | CCC |
| 72 | Pass (D or E on the core) | DDD |
T Levels available at Abingdon & Witney College
Witney & Common Leys
T Levels available at the Witney Campus & Common Leys