Sam Ricketts, a construction apprentice based at our Bicester Construction Skills Centre was awarded the Apprenticeship Outstanding Performance Award at our 2021 Student of the Year Awards.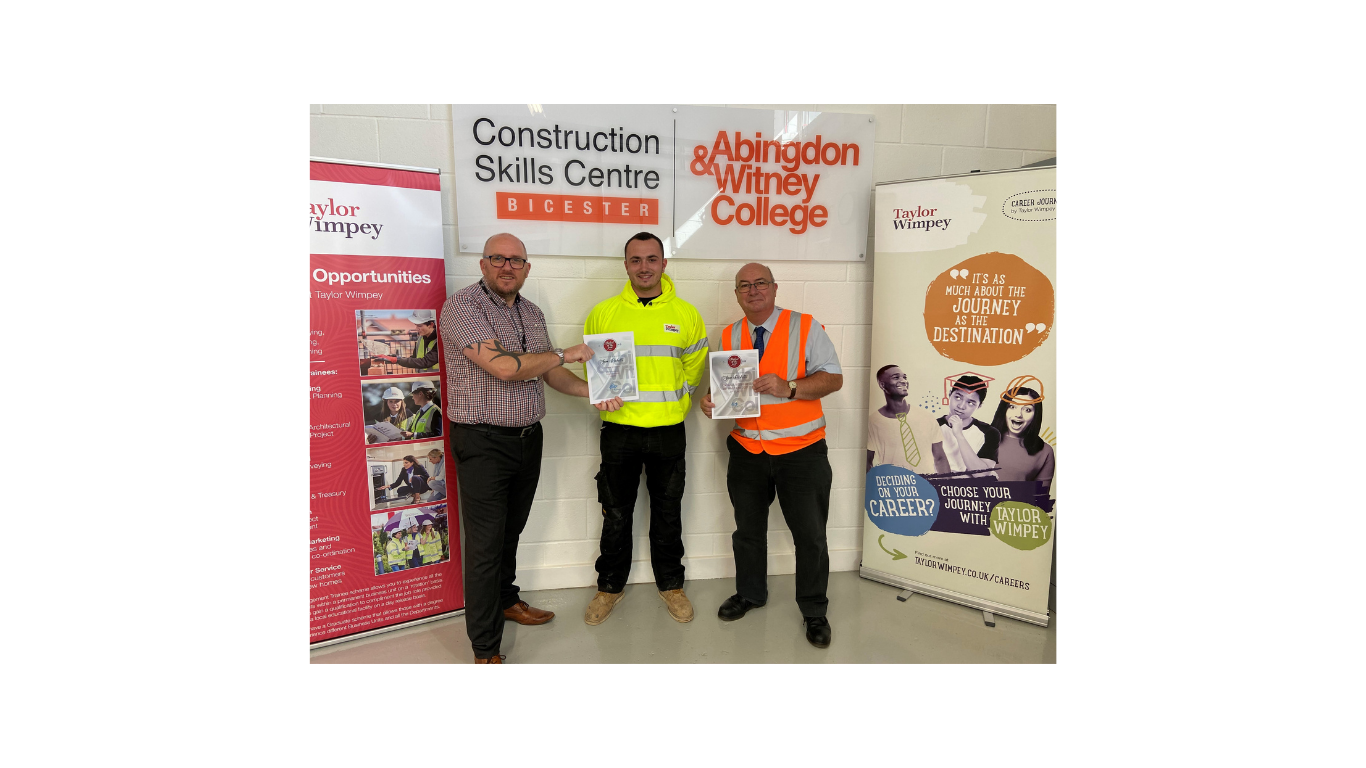 Sam is a construction apprentice with Taylor Wimpey, one of the country's largest housing building companies, working at their Great Western Park development. Sam was nominated for the award by the apprenticeship faculty, and his achievements also gained him second place in the overall Student of the Year award, chosen from more than 14,000 students.
Taylor Wimpey, which works with the college to provide its apprenticeship programme, has helped students to learn their trade by donating materials from nearby sites to the college workshop.
Mark French, Head of the Bicester Construction Skills Centre, said:
"Sam is an absolutely outstanding carpentry and joinery apprentice. His practical work is of the very highest quality and he carries out tasks to an exceptionally high standard. He is a worthy recipient of the Apprenticeship Outstanding Performance Award.
"We are absolutely delighted to be working in partnership with Taylor Wimpey. We train a number of their site apprentices, but are also now able to benefit from the very kind donation of spare materials from their completed sites. This will make a huge difference to our apprentices, who as well as working in industry standard training facilities in our new centre at Bicester, are also able to use industry standard materials."
Sam Ricketts said:
"I would like to thank Taylor Wimpey for employing me three years ago. I truly appreciate the help and the time that a large number of people have spent on me during this time, in particular Ross Graves, Simon Cook, Mark French and Rob Lasslett. I've enjoyed my apprenticeship, learned lots, and have developed new skills to take with me into the future."
Simon Cook, Production Director for Taylor Wimpey Oxfordshire, added:
"Sam has only been with us for a short while but has quickly demonstrated a great attitude and a fantastic aptitude for his chosen career. To see him leading other apprentices at such an early stage is really impressive and it's fitting that he won the Apprenticeship Outstanding Performance Award for his efforts. We are all delighted for him and look forward to continuing our relationship with the college."