Developing a new generation of leaders is just business as usual at Abingdon and Witney College.
At Abingdon & Witney College we offer a Chartered Manager Level 6 Degree Apprenticeship in partnership with Oxford Brookes University. The apprenticeship runs over 39 months where the apprentice will spend 4 days a week in the workplace environment and 1 day in college studying for their degree. At the end of the apprenticeship, apprentices will have achieved a BA (Hons) Business Management Practice from Oxford Brookes University and a Chartered Management apprenticeship recognised with the Chartered Management Institute.
Part of the degree apprenticeship involves apprentices in their 3rd year of study undertaking a work-based project (the equivalent of a dissertation). Current 3rd year apprentice Emily Eyre, who works at DAF Trucks UK, has recently undertaken part of her project which involved implementing a reverse mentoring scheme. Reverse mentoring is when a senior person within an organisation is mentored by someone in another role within the same organisation, giving them a fresh perspective from future leaders and is considered leading-edge practice in mentoring.
On 17th and 24th January volunteer mentors and senior mentees at DAF Trucks UK were trained by Amanda Hobbins and Jenny Witfield, Consultant Coach Mentors at The OCM Group Ltd. This training went extremely well, and Emily got some fantastic feedback on Linked In.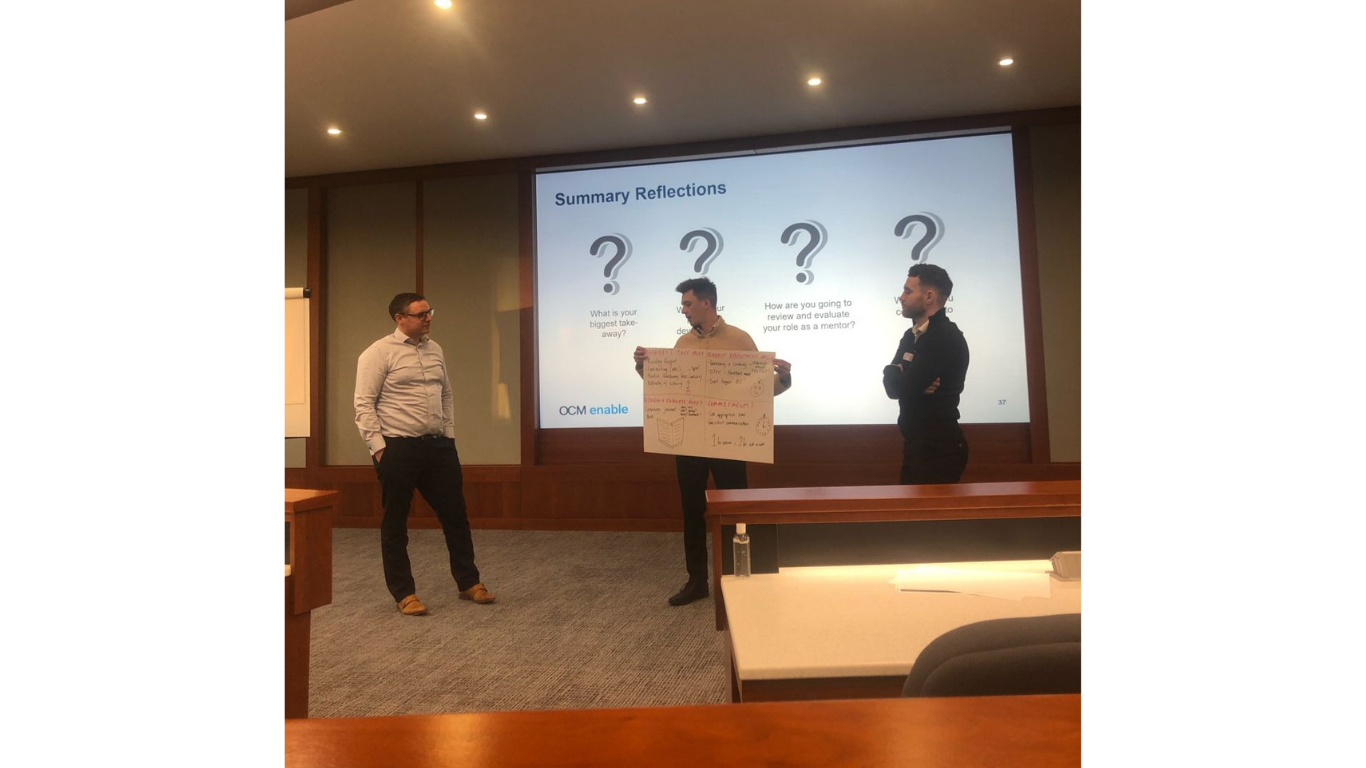 Graham Kirk, Regional Manager at DAF Trucks said:
"Fantastic day with Amanda and Jenny from The OCM Group Ltd. Always open to developing both personally and professionally thanks also to Emily Eyre great initiative. #traininganddevelopment"
Hannah Sanders, Sales Operations Manager at DAF Trucks UK said:
"Thank you Emily Eyre for hosting such an interesting workshop. Looking forward you being part of this project! #mentoring #development #communication"

Amanda Hobbins, Consultant Coach Mentor at The OCM Group Ltd said:

"This brilliant initiative has been set up by degree student and DAF employee, Emily Eyre, who has corralled a group of volunteer mentors and senior mentees to take part in her pilot programme."


"Congratulations Emily, it's really exciting to be involved in getting this off the ground. Can't wait to see how it goes for everyone."

Through a coaching connections day at DAF Trucks, arranged by HR Manager, Elaine Graham, Emily had the opportunity to converse with renowned mentoring and coaching expert David Clutterbuck, who said:
"What a wonderful opportunity for you to do a degree study on a leading-edge practice!"
Rebecca Philbrook, Head of Higher Education at Abingdon and Witney College said:
"We are incredibly proud to support Emily through the development of her Work Based Project module of her degree. We are passionate about ensuring that our graduates are "work-ready"; it's not all about textbooks and lectures – it's about real life, transferable experiences."
It is great to see our apprentices taking the knowledge they have gained in their time on the degree and applying this to their workplace and this being recognised by a renowned expert in the field.