In the second of our series of work placement articles, we return to the Blue Cross Rehoming Centre in Burford and catch up with Hermione in the cattery.
Hermione, a Level 2 Animal Management student, was working in the cattery when we arrived to have a chat. She had nearly finished her course, along with her work placement and reflected on her time with us.
Hi Hermione, could you tell us a little bit about yourself and why you came to Abingdon & Witney College?
"My name's Hermione and I'm at Abingdon & Witney College studying Animal Management Level 2. I wanted to do this course because I saw how many different animals they had there, and I just thought it would be a good experience. And it has been!
I'm on my second year, and I've really enjoyed it so far. It's a lot different to school. They give you a lot more trust and treat you more like an adult than they would in secondary school!"
What's been the best part about your work experience during your placement with The Blue Cross Rehoming centre?
"I really enjoyed learning all the little different bits of how they do [things] and how it could vary from place to place."
"They're really understanding and the team [are] really nice here, I think that all the people are really good."
"I like how they do stuff. It's like cleaning in the morning, and you can do socialising [with the animals]. I even shadowed some of the people doing the paperwork. I feel that's quite cool. Like putting them up on the website and [looking] through [adoption] applications. I really find that interesting."
Have you helped people adopt pets from the Centre?
"No, I haven't. But I've seen people go through [it]. I have put a cat on [the adoption] website before and I wrote the description."
Do you have a favorite animal here?
"I think when I joined it was dogs, but I've really been enjoying [the] cattery, so I'm a bit half and half."
What do you love about working with cats?
"All their personalities are really different and I feel like they if they wanna come over, they'll come over. Whereas the dogs I feel like [are] more of a 'oh, hello a person!!!'. Cats are more selective, and I like that."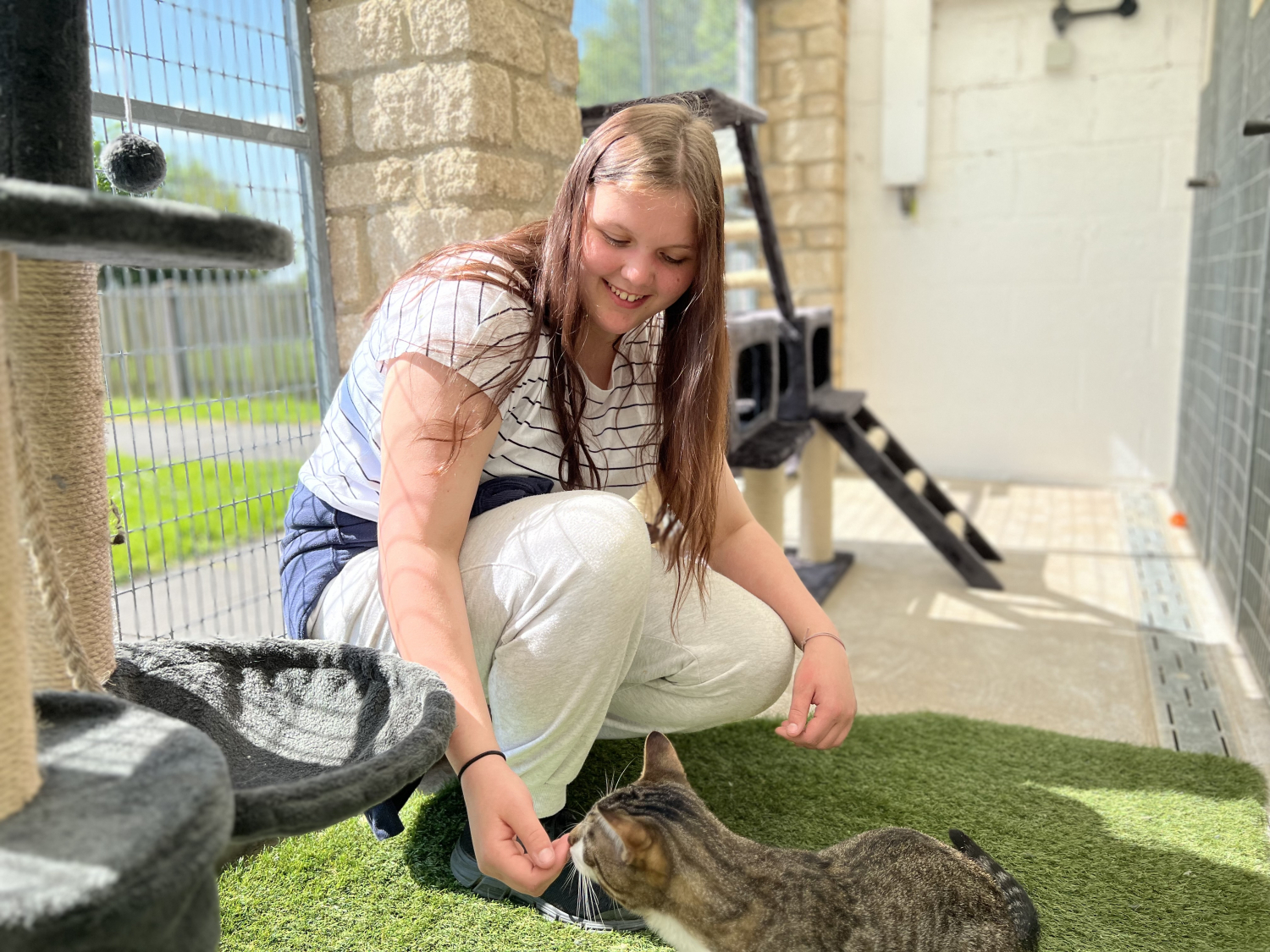 What support do you get while you're here?
"While you're here. Yeah, I get a lot of support.
They always ask me if I'm OK and if I understand what I'm doing. If I need any help with anything, I know that I can always go and ask. There are radios, so if I need help and I don't know where someone is, I can just be like 'Hi.. how do I do this?'... So there's a lot."
What would you say are the main difference between college and school?
"I would say just the amount of trust that they have with like leaving you alone to do your own thing.
If at college, say if we want to clean out the meerkats, I feel like at school you'd be supervised, but [here] it's more of a 'I trust that you know how to do this now'. So, you just get on and do it."
What do you think is your next step?
I wasn't sure when I started college, what I wanted to do, but now I've been here, I think I do want to do something like this. [I've] really enjoyed my placement here. So, I do want to go into re-homing.
What would you say to anyone out there who is thinking about coming to college?
"If you have an interest in animals or anything that the college offers, I think it's a good college to go to. All of the staff are nice and I think that if you know what you want to do or like you have an idea, I think it's good to try and achieve it."
Once again we'd like to thank Hermione and The Blue Cross Rehoming Centre for welcoming us.
Coming soon – Look out for the final part in our student placement series when we catch up with Katie Shurey, an Industry Placement Coordinator for Abingdon & Witney College.
If you would like to find out more about Animal Management courses with Abingdon & Witney College, or anything else about how we could help you achieve your passion, then why not check out some of the links below.