On a glorious sunny day, we were lucky enough to catch up with some students who were finishing off their work placements at the Blue Cross Rehoming Centre in Burford.
In the first of a series of interviews, we caught up with Emily, a student who was just finishing her Level 3 Diploma in Animal care. As part of her course, and spaced over a 2-year period, Emily was in the process of completing her 315 hours of work placement at the Blue Cross Rehoming Centre in Burford.
When we arrived, Emily was already hard at work rubbing sunscreen into two adorable hairless Chinese Crested puppies to prevent them getting burnt! When Emily had finished, we sat down on the grass whilst the puppies, Madam Mimi and Piglet, got used to us being around.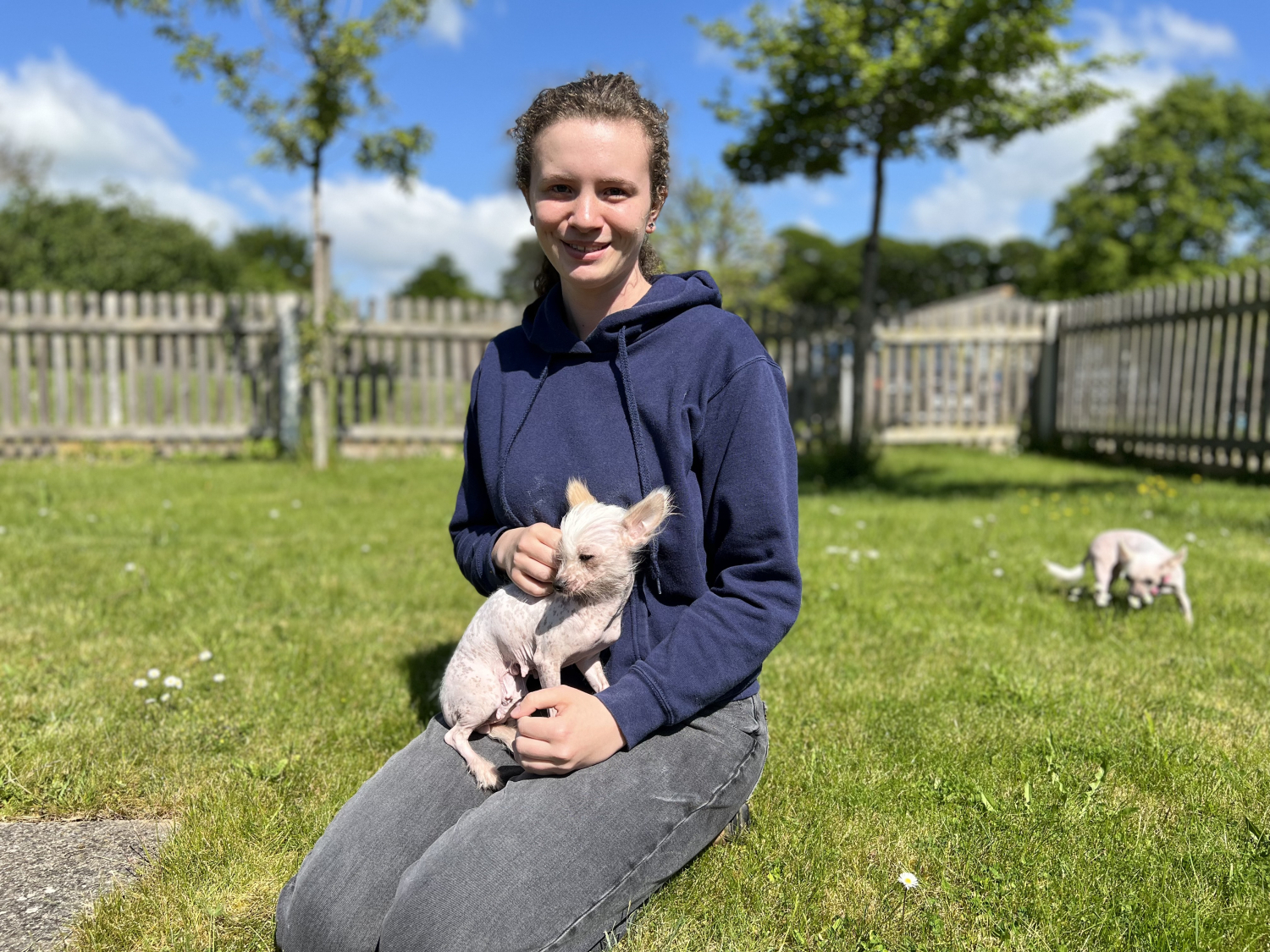 Hi Emily, thank you for taking some time to talk to us today. Could you tell us a little bit about yourself?
"Hi, I'm Emily. I've been at Abingdon & Witney [College] for three years now. I've done my Level 2 course and I've just finished my Level 3 Animal Care Diploma. I'm [currently] here at The Blue Cross doing my work experience."
What made you decide to come to college?
"For most of [my time] before I came to College, I was doing horses mostly. I spent all my summers [with] horses. I just decided that maybe I wanted to do something else. So instead of doing the Equine Course I signed up for animal care and that was just really great decision [for me]. I [have] learned so much more than I already knew. I didn't really know much about [other] animals before [I] starting, but I really found my passion in it!"
What support have you had while you've been at Abingdon & Witney College?
"At the college we do have quite a lot of support. There's career support, mental health support, work experience support. They're consistent and they're pretty good at keeping up with students, seeing how they're feeling, where they're in their career development. So yeah, they're really good!"
What have you enjoyed most about your work experience here at The Blue Cross Rehoming centre?
"I think mostly just how much they let me do. They really let you be hands-on [and] really get to know all the other animals here. I've worked [on several] units [and now] the kennels unit and they're really not afraid to let me get my hands dirty. Get to know all the other animals and pets."
What experiences do you get from your placement that you couldn't get in college?
"Well, out here [it's] pretty much in the real working world, whereas at college, obviously there's only so much they can let us do. And it's a very different environment because this is more focused on pets. [At Blue Cross Rehoming Centre] you don't know what [animals] you're going to [look after] because this is a rescue [centre]."
You have nearly finished your course, so what's your next step?
"Hopefully I'm going to sign up for [an] Internship [or] Apprenticeship. College [has] showed me how to do that. What sort of websites to use and where to look. Some people want to go to uni. I'm just trying to get out into the world."
How do you think you've developed personally since you started at Abingdon & Witney College?

"When I was in secondary school, I was very much the quiet kid, sort of sitting in the classroom with, like, one or two friends. Versus going to college, [where] everybody's a bit more similar. We've all got similar interests which is why we're there. So I've just felt more comfortable talking about my interests to people, which has really allowed me to become a better person, really more prepared for life outside of education. I really feel like college has allowed me to get ready for life."
We'd really like to thank Emily and the Blue Cross Rehoming Centre for allowing us to visit them.
Coming soon - In our next article, we caught up with Hermione, a Level 2 Animal Care student who was completing her work experience in the cattery.
If you would like to find out more about how to get into Animal care, or what other experiences you could have with Abingdon & Witney College, then check out some of the links below.