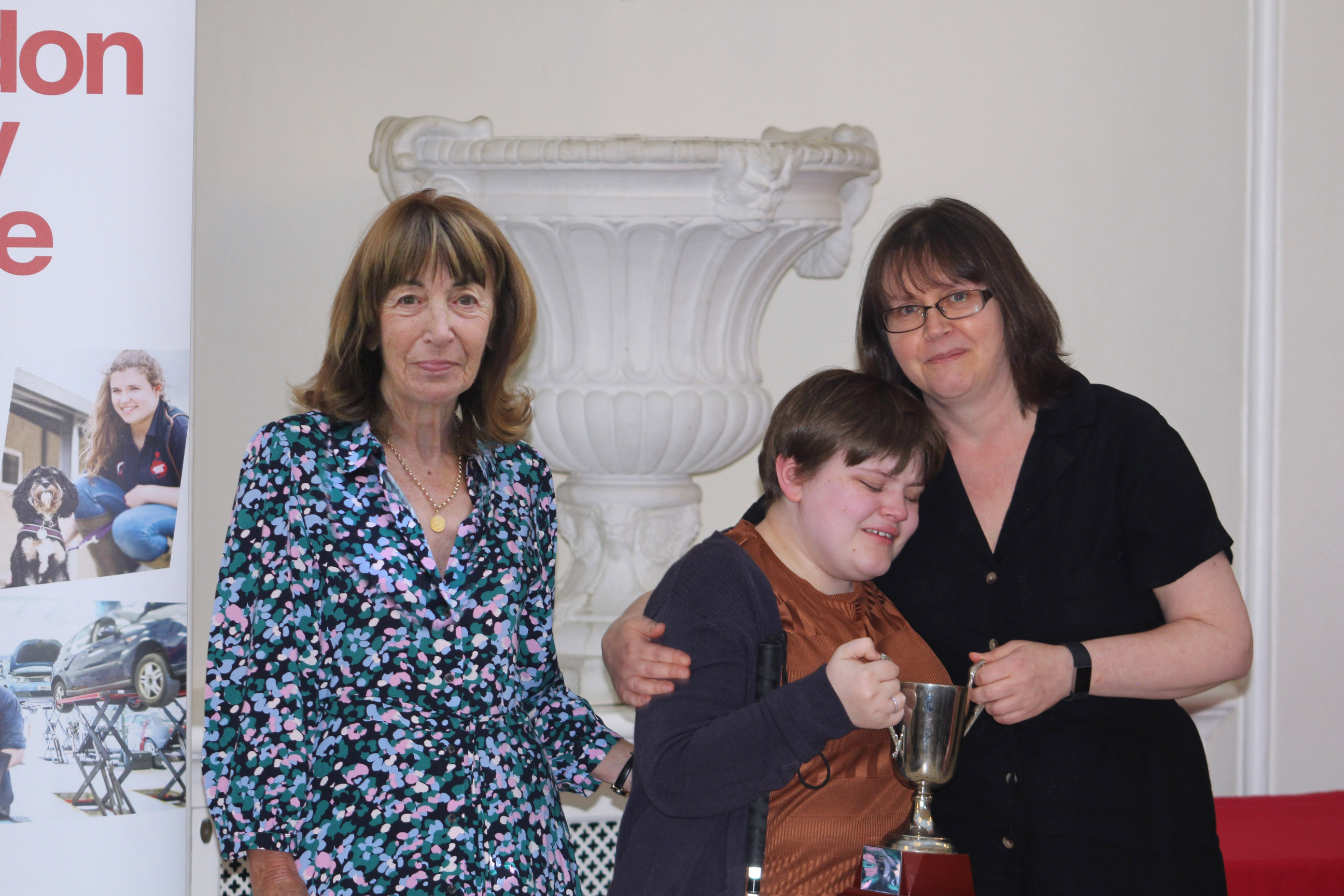 There is no college more proud of its students than ours and there is no more humbling event in our college calendar than the Student of the Year Awards at Blenheim Palace. This is the evening where we recognise the achievements of students who have overcome challenge and adversity in all its forms.
This year, the judges were faced with some particularly tough decision making as the standard of entries was so high. we were particularly proud to recognise the achievements of student, Rona Smith, who took her place as Overall Student of the Year
Usually, in these situations we get a quote from the winner to say how delighted they are but this was different. Rona told her tutor, Donna Simpson: "I'm really tired today after all the crying last night and I don't want to cry again. I'm so sorry for all my crying but we've been together for five years and I have enjoyed every moment of it. I really hope to come back and let you know how I am getting on."
Rona has been a popular and charismatic student at the College. Her tutor, Donna Simpson, said: "Rona feels like part of the furniture. She is an amazing young woman who has succeed in everything she has tried, not only will she achieve at least a triple Distinction, she has grown in confidence. She has also taught us so much as teachers in how we truly ensure we deliver inclusive lessons. I have had the privilege of teaching her for all these years and I'm certain my spelling has improved as she definitely let me know if I spelt a word wrong. The highlights for us working with Rona haven't necessarily been in the classroom, being with Rona on the National Citizenship Service residential will always be a great memory and an experience Rona described as one of her best times. During the five years in college Rona has been taught by an amazing group of teachers and Learning Support Assistants who have truly ensured she has had the best education possible".
Rona has worked with restaurants to produce menus in Braille in the past and her ambition is to work with visually impaired students to teach them Braille. She will be moving on to The Royal National College for the Blind in Hereford for a year to learn independent living skills.

The Orangery at Blenheim Palace has been the venue for the Awards for several years. The ceremony, hosted by Principal Jacqui Canton, recognises the achievements of two students from each of the College's eleven faculties who receive their accolades in front of proud family members.

Second and third in the Overall Student of the Year category were Harry McEwan, who participates in the Fast Forward programme and who was rewarded for his "his hard work and consistent dedication to his education and progression", and Louis Barnard, currently studying a Level 2 Diploma in Horse Care, who was lauded for his "exceptional achievement and motivation in all elements of his course".
Principal, Jacqui Canton, said: "The Student of the Year Awards really are why we all work in further education. To help and enable these young people to flourish and achieve their full potential is both a privilege and a pleasure. We are immensely proud of all of them."

The winners for each faculty were:-
Creative Industries
Overall Achievement: M Haggar-Rosewall
Outstanding Performance: Lucy Gledhill
WEF Isabella Spencer Award for Outstanding Achievement in the Arts: Robert Edwards
English & Mathematics
Overall Achievement 16-18: Alex Moulster
Overall Achievement 19+: Annika Boreham
Access 2 Learning
Overall Achievement: Harry McEwan
Outstanding Performance: Joe Darko
Higher Education
Overall Achievement: Sam Hudson
Outstanding Performance: Eric Mills
Landbased Industries
Overall Achievement: Susie Berry
Outstanding Performance: Louis Barnard
Service Industries
Overall Achievement: Rona Smith
Outstanding Performance: Holly Chapman
Technology
Overall Achievement: Tamzin Johnson
Outstanding Performance: William Haywood
Construction
Overall Achievement: William Sutton
Outstanding Performance: Matthew Hookway
The Oxfordshire Business Enterprise School
Overall Achievement: Ryan Kellow
Outstanding Performance: Kathleen Hamacher
Employment Services/Apprenticeships
Overall Achievement: Tarzina Khatun
Outstanding Performance: Victoriia Priyima
Oxfordshire Adult Learning
Overall Achievement: Lisa Fisher
Outstanding Performance: Perwana Hakimi
Huge congratulations and thanks go to each and every one of you; you all thoroughly deserve the recognition of the college for your outstanding contributions. To those who are leaving us this summer - we will miss you! To those who will be returning in the Autumn - we very much look forward to seeing where your journeys take you next.