Abingdon & Witney College hosts many big events throughout the year, but none are bigger than our Student of the Year Awards. These awards give the opportunity to celebrate the outstanding performances and achievements of our students from the last academic year. To make these awards even more special, we host them in the stunning grounds of Blenheim Palace.

On a wonderful July evening, our guests were invited to drive through Blenheim Palace's main gates and then turn left before taking glorious drive around its beautiful grounds. Following signs that led to the awards new home, our guests travelled through forest and park land before our venue appeared over the horizon.
Clementine's on the Lawn, a stunning new glass structure offering spectacular views across the South Lawn towards the Palace, was the home of this year's awards. Named after Sir Winston Churchill's wife, Clementine's was built whilst the Palace's Orangery, and usual home of our awards, underwent essential restoration works. This year's prestigious venue was certainly going to match the occasion.
Welcomed with a drinks reception on the terrace, our students enjoyed an hour mixing with the other winners, introducing family members to their tutors and meeting some of our prestigious guests. They were then ushered inside for the main event.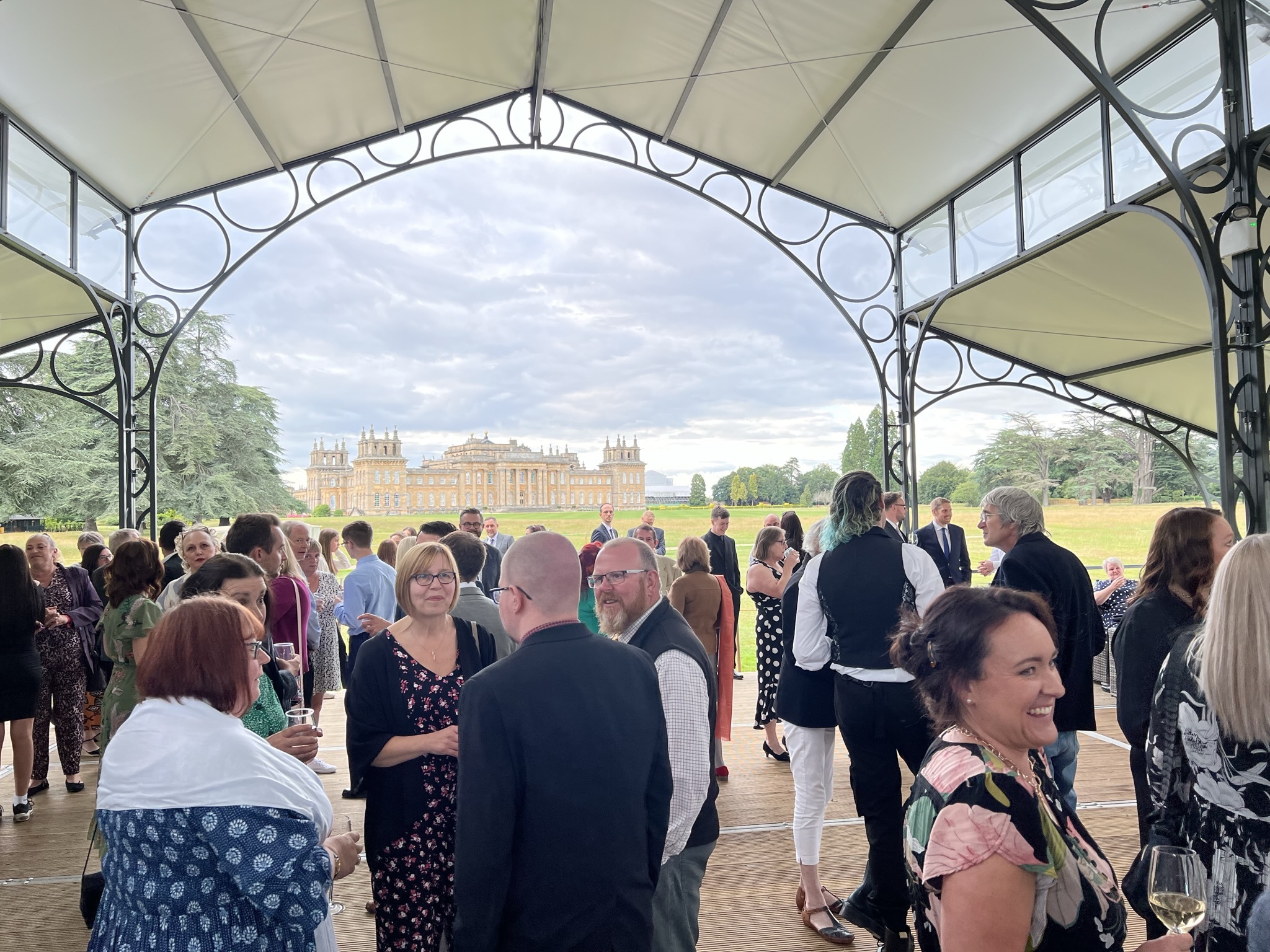 Jacqui Canton, Principal and CEO for Abingdon & Witney College hosted the event and said.
"It was an absolute privilege to host the Student Awards evening at Blenheim Palace. Further Education colleges do the most amazing work, and it is so fantastic to hear the extraordinary stories and successes of our students. Each year, I am so proud of every single one of our students and the fabulous staff team that work so hard to help them to achieve. Thank you again to Blenheim Palace for allowing us to hold the awards in such an inspiring venue; it really helps our students to recognise their tremendous achievements".
Each Head of Faculty then took it in turns to read genuine heartfelt and sometimes emotional citations for each of their winners. Whilst some of our winners had achieved phenomenal grades and had been given places at top universities, others had persevered through extremely challenging and sometimes severe mental and physical disabilities. The transformation in each of the nominations was clear to be seen, as despite the huge barriers that could easily have prevented them from achieving, they had not given up. They were determined to bravely face their difficulties and keep going.
Performing Arts Student Jack Lygo was an exceptionally shy young man when he joined us three years ago. He suffers from dyspraxia, but was determined to not to allow this to hold him back.
"Growing up Jack struggled to hear and therefore began to lip read, he attended speech therapy to correct the pronunciation of words, but over the course of his time at college Jack's confidence has grown enormously, resulting in a principle role in his final show along with putting himself forward to be a course rep, representing his peers as a voice for the department."
"After a successful audition, Jack has gained a place at university to continue studying performing arts, the transformation both personally and professionally for Jack is due to his excellent work ethic and overall commitment to his progression within the arts."
Scott Gray, Head of Faculty for Creative Industries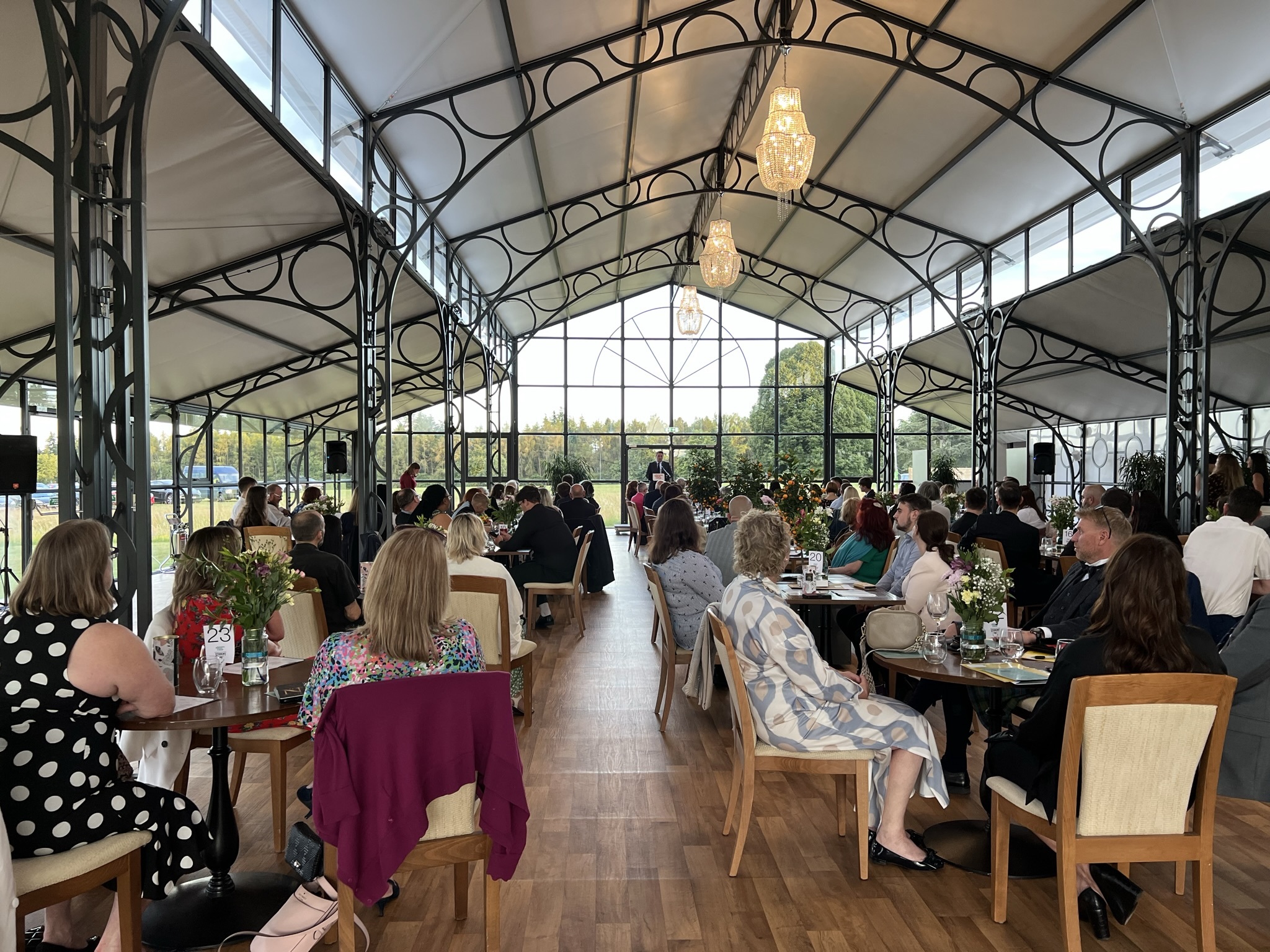 After several more incredible stories, it was time for the interval performance. As usual our performing arts students did not disappoint. Our guests were enthralled by a mesmerising and breathtaking performance that included two solos and a duet as our students sang 'She used to be mine', 'Chicago', and 'Part of your world'. Anyone who has spoken in front of a large room full of people will understand how challenging a task can be. But to faultlessly sing in front of more than 100 strangers, was another level, and just reminds us how inspirational our students truly are.
When our students had finished singing and the hairs on the back of our necks had stood down, the awards continued to honour the incredible stories of students from across our entire college.
Glenn Larder, a Oxfordshire Adult Learning student, has been taking Drawing & Painting courses since 2012.
"Glenn's interest in drawing and painting blossomed after his retirement, he has developed his passion through acquiring an extensive range of skills and used it to start exhibiting and selling his impressive body of work."
"His example is strong evidence that college classes can make a significant contribution to the wellbeing of members of our community."
Heidi Jordison, Head of Faculty for Oxfordshire Adult Learning
After all of the citations had ben read and everyone had received their individual glass trophies, it was time to announce the overall winner of Student of the Year. Victoria Field, Chair of the Curriculum, Quality and Students Committee, stepped onto the stage and revealed the winners.
In joint second place, were Jack Lygo, Performing Arts and Mari Elias, Health and Social Care. Then after a dramatic pause, Nataliia Ryzhova was official unveiled as Abingdon & Witney College Student of the Year 2023.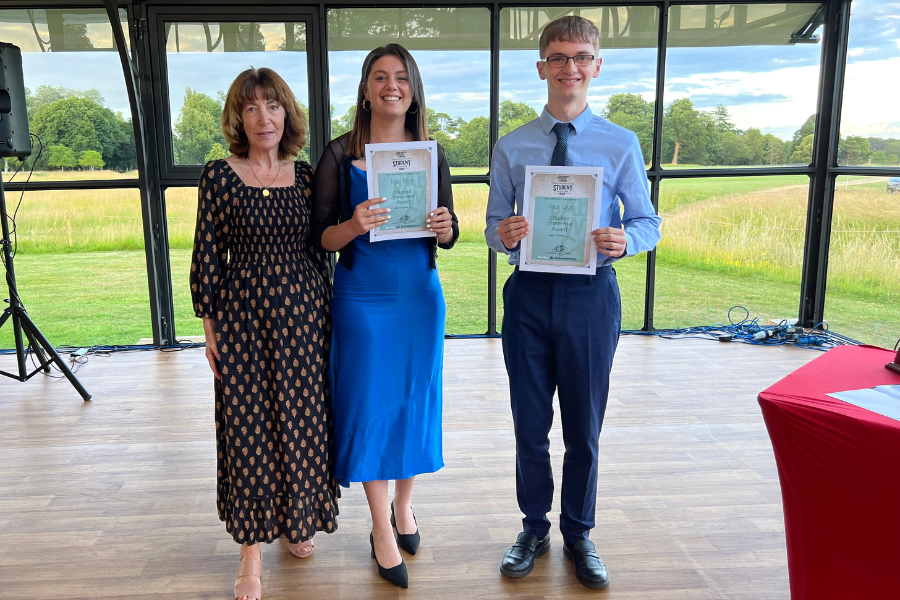 "Nataliia is from Kharkiv, Ukraine and came for an interview at Abingdon & Witney College just a few days after arriving in the UK with her mother and sister to live with a host family nearby. Despite the unthinkable upheaval she and her family had been through, she seemed upbeat and keen to restart her education, which had been so brutally interrupted by the Russian invasion of Ukraine."
"Nataliia had been an extremely prolific student back home, achieving high grades and producing an excellent portfolio of artwork. She excelled in every project and informed us that she intended to apply to study Fine Art at university in September. We were initially apprehensive about her chances of being accepted from a Level 2 course, but she was extremely determined and felt, quite rightly, that she should have the right to progress to Higher Education as she would have been doing now if she were still living in Ukraine. We are delighted and extremely proud that Nataliia has been offered a place on the prestigious Fine Art: Drawing course at UAL Camberwell, which she is looking forward to starting in September. She is a remarkable student who will no doubt go on to have a very successful future in art and design."
Scott Gray, Head of Faculty for Creative Industries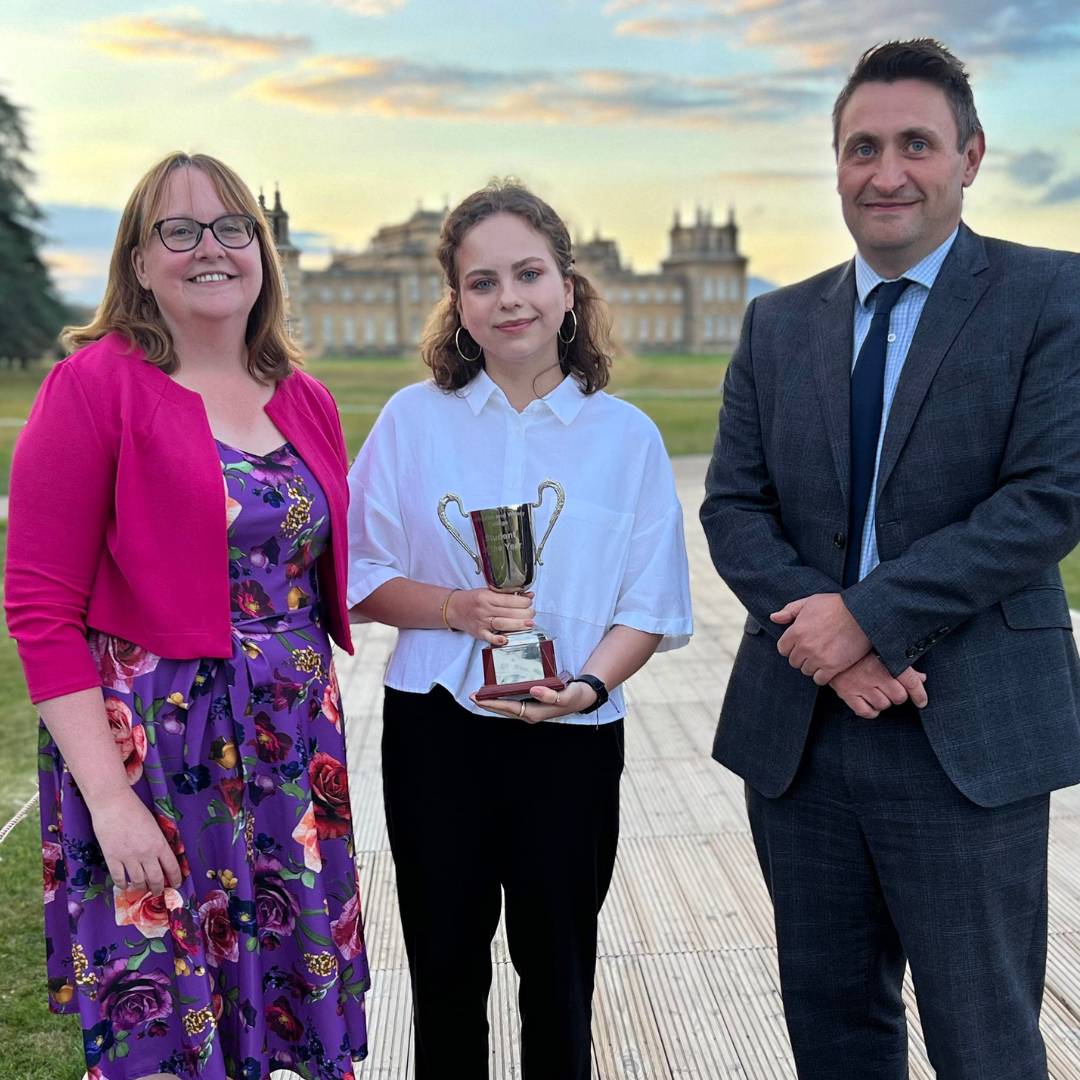 Gavin Maitland-Smith, Chair of the Corporation Board of Governors for Abingdon & Witney College closed the ceremony by saying.
"We've heard tonight from each of your stories the amazing changes and success that education covered with your hard work can bring. Each and every one of you tonight as prize winners, has not only been uniquely you, but you've also been extraordinary.
"My greatest privilege has been being involved with the college. Seeing the incredible ways in which all of us in this room can change the lives of ourselves and others and be extraordinary, and I'm very grateful to all of you for letting us share this evening with you."
The sun started to go down on an incredible evening as guests celebrated by taking photos in front of tonight's iconic venue. As everyone got into their cars and drove off into the sunset, we wondered what incredible stories would be shared when we return next year.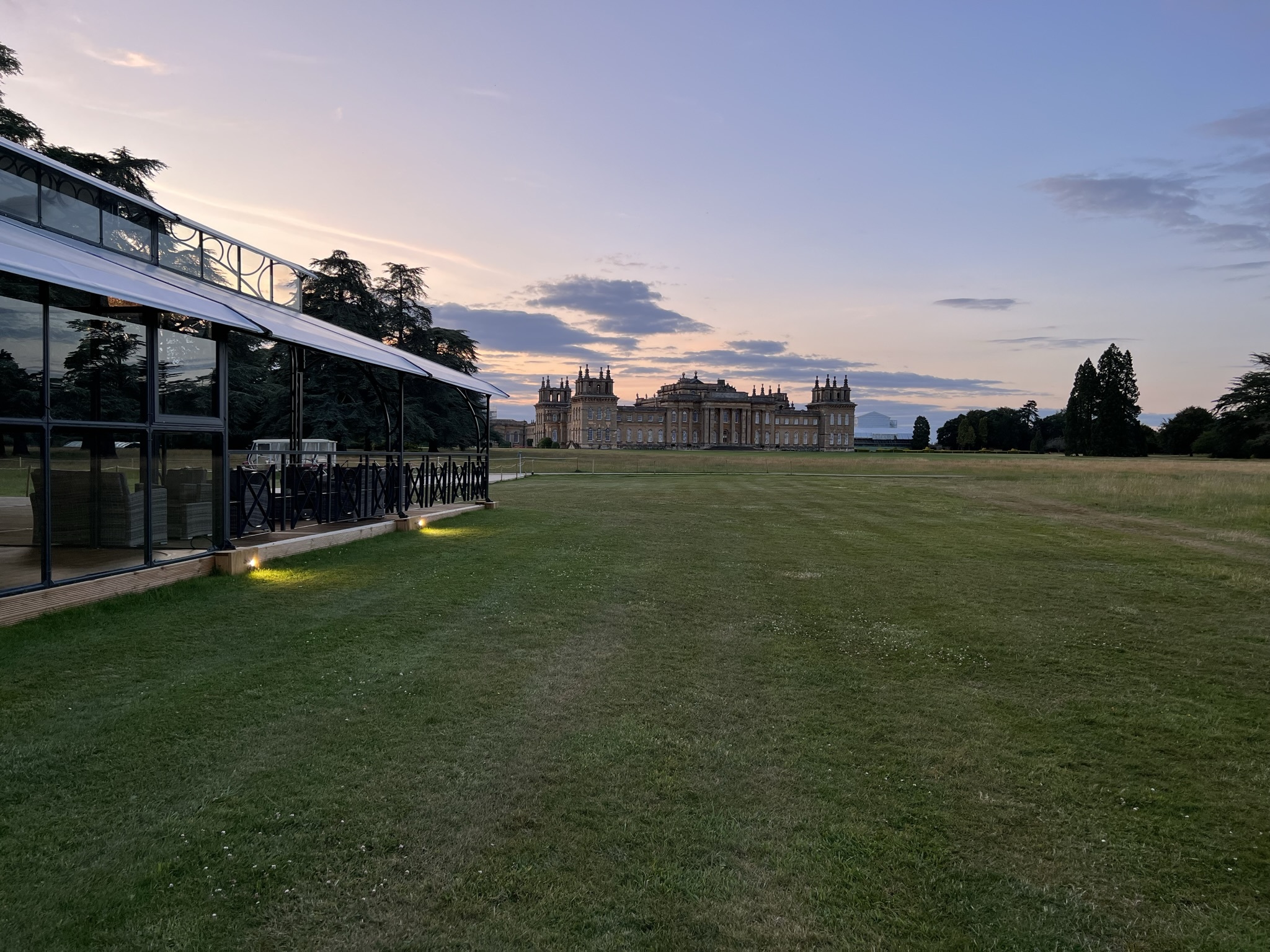 Notes on student nomination selection
Selecting from more than 8,000 students, each Faculty of Abingdon & Witney college nominated a student as their Overall Achievement Award and the Overall Performance Award winners. These nominations along with accompanying citations were sent to the board of governors who then selected the top three, and ultimately The Student of the Year 2023.
Full list of winners
Faculty of Access to Learning
Overall Achievement Award
Duncan Witchell - Gateway
Outstanding Performance Award
Kallum Small - Gateway
Faculty of Employer Services
Overall Achievement Award
Daniel Gunn - Early Years Practitioner Apprenticeship Level 2
Outstanding Performance Award
Leah Thomas – Business Administrator Apprenticeship Level 3
Faculty of Creative Industries
Overall Achievement Award
Jack Lygo - Performing Arts Level 3
Outstanding Performance Award
Nataliia Ryzhova - Art & Design Level 2
Faculty of Construction
Overall Achievement Award
Keira Pomroy - Carpentry level 1
Outstanding Performance Award
Sean Washington - Bench Joinery Level 3
Department of English and Maths
Overall Achievement Award
Tegan Cox – GCSE English
Department of Higher Education
Overall Achievement Award
Freya Connelly Warne - FdSc Animal Therapy and Rehabilitation
Outstanding Performance Award
Lauren Hart - Chartered Manager Degree Apprentice
Faculty of Land Based industries
Overall Achievement Award
Tonya Williams - Animal Management Level 3
Outstanding Performance Award
Benjamin Creasey – Agriculture Level 3
Faculty of Oxfordshire Adult Learning
Overall Achievement Award
Ratna Tesfaiohannes - A Carer's Journey: Creative Writing
Outstanding Performance Award
Glenn Larder - Drawing & Painting
Faculty of Public & Professional Industries
Overall Achievement Award
Mari Elias - Health and Social Care Level 2
Outstanding Performance Award
Celena Appleby-Prince - Sport Level 3
Faculty of Technology
Overall Achievement Award
Finnley Christian - Motor Vehicle Entry Level 3
Outstanding Performance Award
William Smith - OCR in Computing Level 2 Transition
Student of the Year
Nataliia Ryzhova - Art & Design Level 2
Joint second Place
Jack Lygo - Performing Arts Level 3
Mari Elias - Health and Social Care Level 2