Having successfully completed a Level 3 Animal Management course at Common Leys Farm Campus, Abingdon & Witney College student Jago has been offered a place on a 6-month live-in internship at Cotswold Wildlife Park Cotswold Wildlife Park and Gardens, near Burford in West Oxfordshire.
Following his GCSEs, Jago joined the College on the Level 2 Animal Care course. He continued onto the Level 3 Animal Management course, where he completed an industry placement at Cotswold Wildlife Park. It was during this placement that, having been impressed with Jago's work ethic and attitude, one of the Park's keepers suggested he should apply for the sought-after internship.
Throughout the internship, Jago will be building on his experience gained through his previous placement; working with and learning to care for a range of large mammals including giraffes, Asiatic lions, and southern white rhinos.
Earlier this summer, we visited Jago at Cotswold Wildlife Park to find out more about what he's been up to. As Jago casually fed the Park's giraffes on our arrival, it became clear in the first few minutes that this opportunity was not something everyone gets to do in their day job!
During our visit, Jago shared his motivation for starting college, why he chose his course and an insight to his experience:
"It's something that I found interesting, I wanted to do something that wasn't just sitting around, and looking after animals is something I like doing."
"I was at College for three years in total and it was good. Towards the end it was a bit tough, but I got through it! It was actually quite enjoyable and I'm glad I've done it. Now I can focus on this internship."
Jago shared how he felt about his placement with Cotswold Wildlife Park and his thoughts on starting his upcoming internship:
"I think it's great. I love anything to do with animals; touching a rhino is pretty cool and not many people get to do that! I feel lucky to be able to be in this position, and to be able to work with animals like these."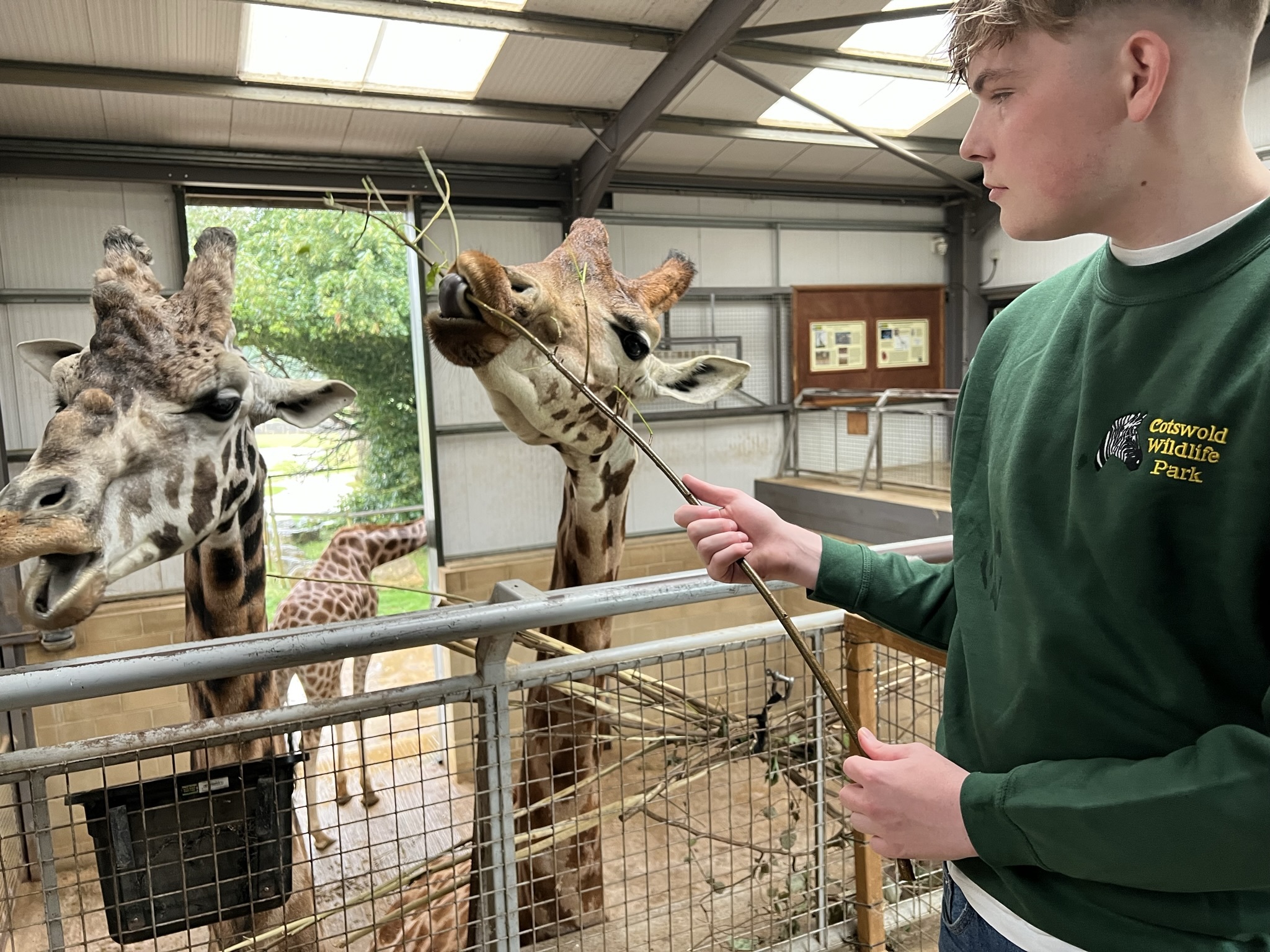 For his internship Jago will be living on site in his own flat, a memorable first experience of living away from home. Once he has completed his internship he will be in a brilliant position with his qualifications and unique work experience to apply for a Trainee keeper Position, at the Park or at other zoos.
Helen Hitchman, Education Manager at Cotswold Wildlife Park said
"In a highly competitive field, for us to be able to offer the next generation of animal keepers the opportunities they need to develop their practical knowledge and skills is incredibly important. In fact, at the start of their careers, many of the Park's keepers volunteered and gave up their free time to learn and gain vital work experience in zoological collections in order to get where they are today. Knowing how much work experience helped them, our dedicated team of keepers are more than willing to share their knowledge and support students like Jago who demonstrate a passion and dedication for animals and the important role of taking care of them. We have been running the Student Internship Programme at Cotswold Wildlife Park for a number of years now and welcome Jago on his first step towards becoming a qualified keeper."

You can find out more about our Animal Care courses below or come along to our next open day in September to speak with staff about your options