Michelle Donelan, Minister for Children & Families at the Department for Education, visited the College for the first time to speak to students, staff and local employers.
Ms Donelan was treated to a tour of some of the College's key facilities to see where students learn valuable career-specific skills.
This started with a visit to the Health & Social Care department, to listen in on an anatomy and physiology lesson and see virtual reality headsets in action, getting an insight into teaching methods and course content.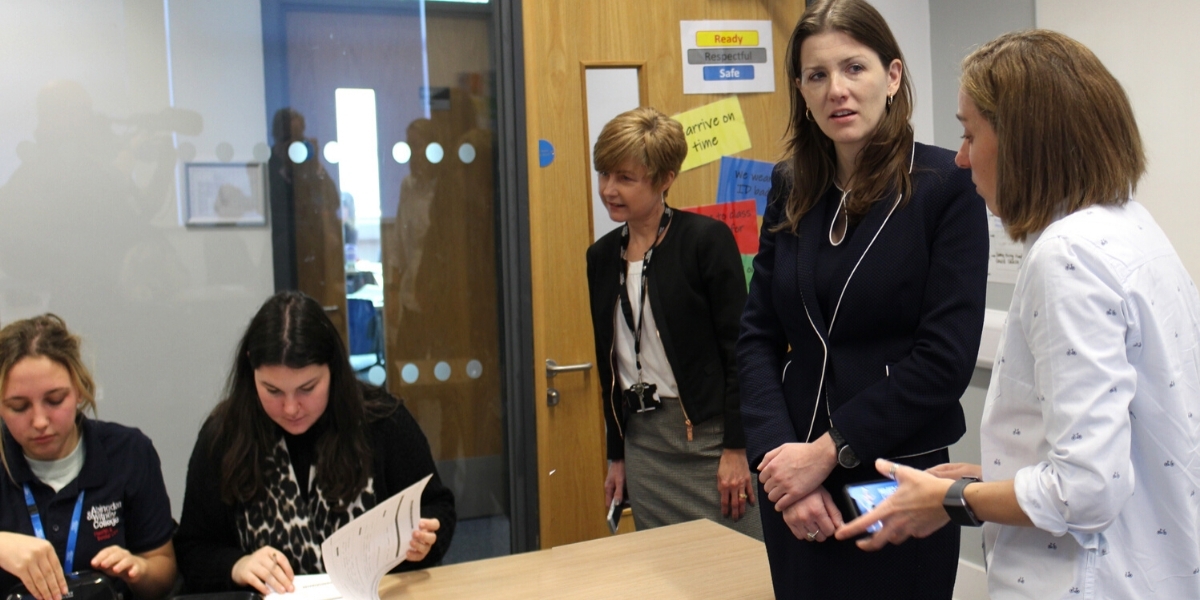 After passing through the high-tech engineering workshops, a trip to the College's on-site Dance Studio was next up. Students from the Level 3 Performing Arts course and their lecturer, Lucy Kelly, performed a song and dance rehearsal of their upcoming fantasy-themed showcase, one of more than five shows they produce every year.
With the tour finished, she then met with representatives from Oxford Wood Recycling, John Mason School, Nielsen, Oxfordshire County Council, Age UK and Miele, for in-depth talks on apprenticeship issues.
Further education was high on the agenda in discussions with senior leaders at the College, along with the forthcoming T Levels, adult education and apprenticeships.

"I was delighted to be able to visit Abingdon and Witney College today to see students of all ages and from various backgrounds practicing the skills they need to progress into a rewarding career," said Ms Donelan.

"I enjoyed seeing the performing arts students rehearse, and it's clear to see that this college's staff work hard to offer their students every opportunity available.

"It is a really exciting time for Abingdon and Witney College with the introduction of T Levels right around the corner. I look forward to hearing how the college is progressing once they are rolled out next year."
Di Batchelor MBE, Principal at Abingdon & Witney College said:
"Having Ms Donelan visit the College today was an excellent opportunity to discuss the challenges the further and adult education sectors are currently facing, and to showcase some of the fantastic things our staff and students are doing here."
"Despite apprenticeships and T Levels being very much in the media lens right now, we are always highlighting how learners of all ages and their local communities rely on colleges such as ours to make big differences in their lives."